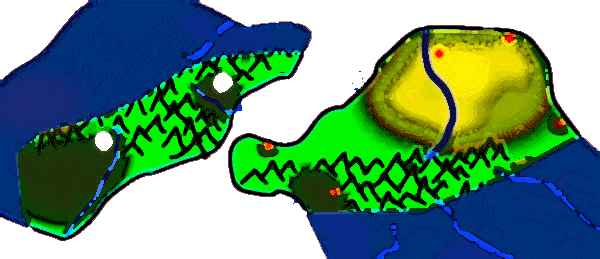 According to the G'nollek calendar, the year is 5942. For nearly six thousand years the empire of the Gnolls has endured on the backs of slave labor. You are one such slave. Humans and Elves, Dwarves and Gnomes, for unknown ages have served as chattel for the Feral races, the ruling classes of beast men that dominate the Wildmarches. For the history of men, slavery has been the only known fate.
Yet things are changing. There are few slaves now that have not heard of the free cities, across the ocean to the West. In their hearts men know that there is a new hope for freedom. Soon the power of the Ferals to contain men will be broken. Soon the world will change, and men will punish the Ferals for centuries of bondage.
When that day comes, you will be at the head of the charge.
All text and art copyright 2002-2003 S.Cheney
Dungeons & Dragons and d20 is the property of Wizards of the Coast/Hasbro Entertainment. No challenge to copyright is intended by any of these pages.
The rules changes for this game make use of the d20 system and Open Gaming License. These contain modified and supplimented d20 rules that may be considered "Open Content" under this license. OGL for this site.